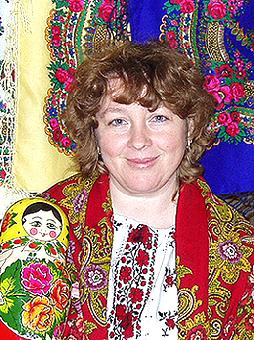 Dear visitor!
Babushka Netherlands specializes in the sales of Russian art and gift goods. Almost every item on this website is handmade by Russian and Ukrainian artists, among which those made by me. Besides keeping this web-shop I also give lectures on this aspect of Russian culture, give demonstrations of matryoshka painting and host workshops.
As personal contact is very important for my business, I would like to introduce myself to you.
My name is Larisa Bilous. I am a Ukrainian, living in the Netherlands since 2001. I am originally from Odessa, a big city situated in the South of the country. This is where I had got classical education in arts at the arts academy. At that school for four years I used to spend 6 to 8 hours a day studying.
After finishing my degree I moved to Russia with my family, to a small place not so far away from Moscow. There I gave classes at a secondary school and also organized art courses for children. One of the most popular topics for the lessons was toy decoration. In my own free time I also enjoyed painting on the wood, especially painting matryoshka nesting dolls.
When I've moved to Holland I was surprised by the interest of the Dutch towards Russian culture. This was one of the reasons why I decided to give it a try and carry on with my past occupation, promoting the culture of my country abroad. This, in its turn, resulted in the creation of this website, where you can not only buy Russian products, but also read their history.

I would like to thank you for visiting my website and to wish you much pleasure while browsing my website.